6th March, 2012
Wait..what? 4 years later? Yeah, yeah. I know. Anyways, I FINALLY got DDP:DFK right when they announce DoDon Pachi: Sai-Dai-Ou-Jou! So, I won't play this one till 2016 probalby, but I did post a DDP:SDOJ section for it. What a useless site. :)


16th March, 2008
After much delay, I finally got up some older artwork. You can find a whole bunch of stuff in the Mushihimesama Futari gallery. While I've never played this version (any of the Futari releases, actually), I positively love the art.

You can also find new character art and level backgrounds on the Ibara Sorekara: Pink Sweets page. I also posted an awesome flyer (in small, medium and 800dpi TIF format) from the original Ibara, a game that I've recently gone back to tinker with.

I haven't felt the need to put up Muchi Muchi Pork or Deathsmiles artwork. Neither is very compelling, and like Ketsui, ESPGaluda II and Mushihimesama Futari (1.0, 1.5, BL), I've never (and probably never will) play them.


9th March, 2008
I did get around to making a DoDon Pachi: Dai-Fukkatsu gallery. Only a few images from the AOU there, but more will come, I promise!


1st February, 2008
Has it really been so long since the last update? WOW! Well, I did pick up some stuff online with the anticipation of posting. So much for that.

The sole purpose for today's update is in this pic here. Most of you already know, so I needn't say more.

23rd August, 2006
Opened up a Mushihimesama Futari page based on the new official site! There is a story overview, character pics and a snap of the new logo. I've cleaned it all up and sectioned out the Mushihimesama page into two. I particularly like the new poster of the game. Check out the images below for your preview. More to come!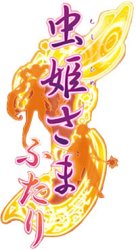 6th August, 2006
A posting over at Amusement Marketing International has the new Mushihimesama sequel listed as Mushihimesama Futari. (See the new flyer for it all) Apparently it's a play on words, 'Insect Princess Two / Two Insect Princesses'. I thought the other character was a boy? *shrug* Either way, I'm excited about maybe playing it before the end of 2007. :) Enjoy the new ad, which is just a different version of the one listed below.

3rd August, 2006
A few months ago, Cave announced their upcoming lineup and iirc it was all pachinko and no shooters! Well, I was very happy to see the news posted this week that Mushihimesama 2 has been 'announced'. Much like the first game, it was revealed in a teaser image in the ESP Galuda II OST. This shows a pic of Reko looking a bit more mature, but with no more clothing. Don't know who the guy is with her in the image, but a dragon accompanies Kiniro. In any event, I'm looking forward to the game as I really enjoyed the first. The music, gameplay, presentation, the whole lot was quite enjoyable. Not sure who posted this, but here is the teaser image. Now, the wait for a port begins. *snore*

6th April, 2006
The official Cave Site has finished their main set of updates for ESPGaluda II. I've gotten all those images and cleaned them up and tossed them online. This includes the stage backgrounds, boss art and sketch artwork for all characters. Some really great stuff, I definitely like it a lot more than the other entries in the series. Now, if I could only play the game!

26th February, 2006
A big update today, one I've been working on for a few days. The first is some additions to the ESPGaluda II page. The Official Site is still being updated, so I will trickle down the last few stages as they're posted. The art is cool, less colorful and more mature than the first Galuda. I like the boss art a lot.
However, it's all in the shadows of Ibara. Until I got the game on the PS2 this past week, I didn't have much interest in it. Once I played it, heard the soundtrack and experienced the game as a whole, I was blown away. Incredible! The animations are phenomenal, and so I created a new section and put up all the art I had collected. This includes a logo for Ibara Black Label which is in arcades now, I believe. I've also uploaded a page for Pink Sweets: Ibara Sorekara. While this section doesn't have much currently, I expect to fill that section up as Cave releases art.
Both ESPGaluda II and Ibara have level maps, some good stuff there. I look forward to playing the former, still crossing my fingers for a home port. Hoping not from Taito though. While Ibara is good, along w/ Mushihimesama, they pale in comparison to the 2 ports Arika handled IMO. Anyways, there's the update for today, and a reminder that the site can now be accessed from PeacefulDeath.net.

21st February, 2006
A new year, a new domain! This site can now be accessed from PeacefulDeath.net!
I plan on putting up an Ibara section soon, and have some new ESPGaluda II images coming as well.

30th November
The first peek at Shikigami no Shiro III has arrived courtesy of Game Watch. Only one image for now, but the screenshots sure do look good!
Next up is ESPGaluda II! Some new art from the official site over at Cave! This includes character art and a *huge* poster (399x1097!) Very cool!
Ibara was announced for port (by Taito, unfortunately). I like some of this art, and have some posters, but not sure if I'll get around to tossing this on the site or not. *thinking*

15th August
Posted over at Mak Japan, we have our first glimpses into the 3rd ESP title from Cave! Next year, ESPGaluda II will be coming out in arcades, so my hope is that we get a port sometime in 2007! One illustration is credited to Masaki Hirooka and the other is a pretty cool poster. I created an ESPGaluda II section w/ these new images. Here's a snap of the logo.

19th July
This site was a project to put together art from all of my favorite shmup games. Having compiled all of this, the site has understandably fallen quiet.
I've put up some new stuff today though which may warrant a peek. The first update is the one I've been holding out on. This week, Mushihimesama is released on the PS2 and I've put up some artwork to commemorate this. The latest of Cave's excellent shmups is one I've been very excited about.
Next up are a pair of smaller updates. Here I've put together the background images from levels from ESPGaluda and Ketsui. These are huge images (one sizes in at 100 x 2333!), but I quite like them.
Finally, I've tweaked the game list atop of the site. It's now 2 rows (for those running @ low resolutions) with the top line being just Cave games, my favorites. I hope you enjoy the new update and look forward to more Mushihimesama, as I'd love to get the sketch artwork from the gallery online!

2nd June
Shikigami no Shiro update
27th April
Posted 4 galleries for the Don Pachi series.
Don Pachi, DoDon Pachi, DoDon Pachi II, DoDon Pachi: Dai-Ou-Jou
20th April
7 new ESPGaluda images
Sol Divide page added.
9th April
5 new Ikaruga images
The goal is to cover most of the modern Shmups from Cave, Psikyo or Taito, including art and whatever other interesting images there are.
Note that the R-Type section is actually a separate web page designed by myself. I have a DDP page which is undergoing a redesign as well.

Link Button